Bruce Waterman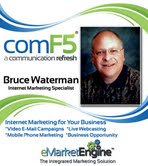 comF5
pixelpix@comF5.com
http://www.GetComF5Now.com
A professional photographer for the past 30 years, Bruce made his transition into the digital age, becoming a digital artist and rotoscoper in feature films like Dante's Peak and Titanic. In February on 2009, he was introduced into the world of video streaming marketing for business by a company called comF5, a communication refresh.
Seeing the value almost instantly, Bruce had the vision of taking this state of the art technology to business owners as an alternative and more effective way to communicate, market, & promote.
With it's integrated marketing system of video e-mail campaigns, live webinars/webcasts, mobile phone marketing, and now a new online video platform with video e-commerce capabilities, Bruce has a passion to bring new and fresh ideas for a business to grow and flourish in even a troubled economy.
Bruce and comF5, the E-Market Engine, can provide solutions to drive a business to a whole new level.
Return to the Spotlight Homepage