Robert Hastings talks about regret.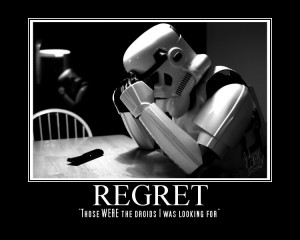 Here's your "QuoteAction" of the day:
"It isn't the burdens of today that drive men mad. It is the regrets over yesterday and the fear of tomorrow. Regret and fear are twin thieves who rob us of today."
Author, Robert Hastings
Your action for today is to write down one regret you have and identify what you can learn from what you did or didn't do.
Have an extraordinary day!
Give someone an AWESOME day!!
I just know I would regret not sharing with you that you can get some really great free no strings attached publicity for your site, blog or business simply by heading over to my main site at http://www.CaseyEberhart.com and adding yourself to the "Success Spotlight".  This a really cool way to show my community what you do, and while you are there, please visit someone else's site who has stepped into the "Spotlight"!