Anne Stericker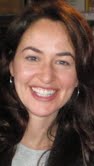 Live. Travel. Well.
anne@livetravelwell.com
http://www.livetravelwell.com
I run a personal concierge and virtual executive assistant service that helps extremely busy people free up their time so they can spend their time doing whatever is most important to them. Whether I am planning the details (restaurants, spa, theater) of a special vacation or sorting mail and paying bills, my clients can HAVE MORE FREE TIME by hiring me.
Return to the Spotlight Homepage