Our profession lost a company, and some are happy? I don't get it!

Hey gang! Today I heard about a network marketing company that went out of business. I found the news distressing, but what was even worse was all the chatter around the internet actually celebrating the company's demise. People were actually happy that others in our profession had lost their company, their investment and, in some cases most likely, their hopes for a better life. I ask you, is this something to be happy about?

NO. Network marketers are not in competition with one another. Our only competition is ourselves and our dedication to our profession. To see others fail is a failure for us all. We are not here just to build up our own organizations, but to foster better public recognition and appreciation for network marketing as a whole. That's how we all succeed. And believe you me, there's plenty of room at the proverbial "top" for us all.
In a recent post I said that when we saw someone else in our organization or even in another having problems, that we should reach out and try to build them up, share our experiences and ideas for their success. Be that pep squad that we all need now and again. It helps that person more than you know and it helps yourself. If you believe in positive energy then delighting in the failures of others, or Schadenfreude as they say in Germany, goes directly against that positive energy and will certainly bring you and your organization down.
I may use the phrase "Give someone an AWESOME day" a lot, but that's because I know how really important it is. You give someone an AWESOME day and voila! You get one in return. What a rush! But if you gloat about the misfortunes of others, and in this case all the good folks who will now have to start looking for new opportunities, then voila once again. You get knocked down a rung or two on the ladder of success.
So what do you say we put away all the gossip and negativity about other companies and concentrate on making our own the very best they can be?
Am I preaching? I don't think so. Lessons like this are as important a part of network marketing training as any other. Even more so if you transfer them into your daily like outside our profession.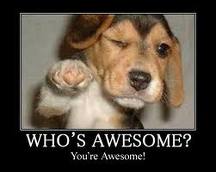 So friends, even though it might take a bit of effort, go out there and give someone a truly AWESOME day. There's someone who really needs it, and it just might be you!