No Excuses Means No Excuses Means NO EXCUSES!



Hey gang!
Aren't excuses great? I mean, we can drop the ball, give in to our fears, just be plain lazy and a good excuse seems to make us feel so much better. Common. Admit it. It's true. Rationalizing out our own inadequacies is great medicine.
And then someone comes along and says, "NO EXCUSES!" I hate when that happens. You see, excuses may make you feel better (albeit temporarily), but they do nothing for your business or your success.
That's what the No Excuses Summit I recently attended in Las Vegas was all about. Getting out of the habit — and it is a habit if not a real addiction — of instantly coming up with an excuse rather than facing the reality of a situation and confronting it head on.
Now let me say right here that I have been known on occasion to be the King of Excuseland. Here's a recent one.
Have you seen the new Flip camcorders? Amazing little devices that can record up to two hours of HD quality video yet small enough to fit into a pocket. They're simple to use and make it so easy to share your videos instantly on Facebook, Twitter, even your own blog. Easy for most people, that is. Yep, I've got one and have recorded lots of great stuff.
So I'm talking to my good friend Cedric and he says, "Casey, you're missing a valuable opportunity. You're great in front of an audience and on camera. Why aren't you recording on video and posting them to your various blogs and accounts?" I told him that, as a matter of fact, I right now have 18 videos that I'd like to post but that I didn't know how to work my darned Flip camcorder to get them onto my sites. Cedric was very understanding. He simply said, "No excuses. Figure it out."
I knew he was right so I went home and that night tackled the problem of getting my videos up on Facebook. Well, let me tell you, this was no easy task, at least not for me. It took forever just to get one video to post and then, to my continued consternation, it posted nine times! I have no idea why. (My apologizes to anyone on my Facebook page that night.) Then I couldn't figure out the title sequence. ARGH.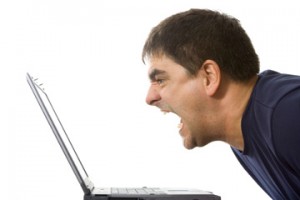 Next I tried to post a video to my blog, theidealnetworker.com. I had just about the same success as I did with Facebook. I'm starting to get a headache that I think only a vast amount of adult beverages could cure when I look up on my white board and see the phrase, "No Excuses Means No Excuses." After a big dramatic sigh (after all, I did work in the movie business for years), I said to myself, "Casey…you are not going to bed until this is done and it's done RIGHT!" There may have also been big dramatic music in the background — I'm not sure.
Anyway, after many failures, misspelled words, "error" messages and one moment when I almost threw that stupid Flip thingy into the garbage, I actually posted a video. Genius! I gotta tell ya, doing the work right is such a better high than a good excuse any day.
Don't ask me how, but after that one video posting traffic to my blog tripled! People signed up for my newsletter. I had moved out of Excuseland and into Actionville! I loved the new address.
And then I go to Vegas for the No Excuses Summit. Naturally, I take along my now beloved Flip. Luckily for me, I was interviewed several times and each went great. However, did I take my Flip out of my pocket and ask if I could just hit record for each interview? Oh no…too embarrassed to do that. What if I screwed it up and everyone knew I was a tech-dummy? Couldn't have that. So, rather than just plunging in and doing what I knew I needed to do, I made an excuse and missed a massive opportunity. The entire YouTube nation was just waiting for my next video posting. Yet, I chose an excuse over action and what did it get me? Nothing.
Here's a simple question. How bad do you want it? If for every action you know you need to take you instead come up with an excuse — "It's too early to make that call," "They probably aren't interested in my product or service," "I'm no good on the telephone," "They probably don't like blonds," "I'm never that good on a Tuesday." — then all you'll have at the end of the day are your excuses when, instead, you could have a thriving business and the best high you've ever felt.
Do yourself a favor. Come up with an excuse, a really good, iron-clad excuse, why you aren't growing your business. Now, shoot that excuse full of holes. You know you can. It's easy. It's just an excuse. They can't stand up to the light.
Just make sure you don't make an excuse for coming up with an excuse to cut to shreds.
If you can't think of a good excuse, let me know. I've used them all and I have no need for them anymore.
In blogs to come I'll be sharing the other 7 awesome points I learned at the No Excuses Summit. They're really powerful and I think you're going to love them.
Now go out and give someone an AWESOME day. And I don't want to hear any excuses why you can't.