It Ain't Only About the Internet!
Hey Gang!
So as I've told you in several posts, I was at the No Excuses Summit in Las Vegas with my dear friend and super network marketing genius Todd Falcone and we're feeling pretty good when we first walked in. And then it hits us. This was not a typical network marketing conference. We were smack in the middle of a major internet marketing event — computers and web stuff and conversion rates. Oh My!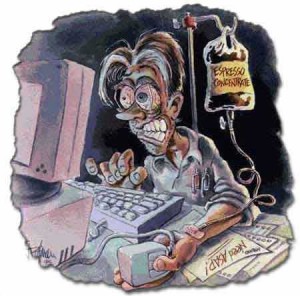 Now don't get me wrong. I have nothing against the internet. Heck, you're reading this on the internet right now, aren't you? However, it isn't ALL about the internet. People forget that the real value and opportunity of network marketing lies off-line, not on-line.
But nonetheless, I learned a lot, especially when talking in the hallway (see earlier post about meeting people) with a great young man named Jason and his girlfriend, Casey. Jason was a smart kid, but when he started spewing out all the technical jargon of exactly what he did on the internet my eyes glassed over and my mind wandered back to when I was a kid and our teacher was explaining why it was so important that we learn logarithms. But I finally came back to the moment when Jason asked what I did for a living.
I told him I was involved in network marketing, mostly meeting people face-to-face and developing relationships. I said that he may have a data base of thousands of names, but I had a smaller list and each person on it was my friend. I told him how I love to have phone conversations with people, meet them for coffee, even send out birthday cards to them all.
Jason picked up on the birthday card thing right away. "Really?" he asked. "What's your birthday card conversion rate?"



I cocked my head not unlike my friend's Labrador Retriever when you ask him a question he doesn't understand.
Jason plodded on. "What I mean is, do you research which font is most effective? Have you made the determination if blue ink is better than black? How many conversions do you get with each mailing and what matrix do you use to measure your results?"
I told this eager young man that he was missing the point, that I only sponsor people I'd sit in a hammock with in Costa Rica. Now it was Jason's turn to cock his head. I said that the internet was a great place to meet people, but you've got to figure out how to bring your heart into the internet. "Jason, right now you're just a faceless dude, worried about ad tracking," I said. "What you need to do is worry about how to bridge the gap between the internet and the real people you're reaching.
I told him that he could take a list of 100,000 names from his data base and I could take only 1,000 and I'd beat him out every time. Why? Because I am the face behind the name. I'm the handshake instead of the email. And once a year, I'm the birthday card instead of, well…the nothing that he sends.
I can't say whether or not Jason really got what I was saying, but I was delighted when his fiance piped up and said, "You know, until now everything I heard in this conference made me want to run away from network marketing as fast as I could. But now, hearing what you have to say, I'm ready to sign up!"
So, should you use the internet? Of course! It's one of the most valuable tools we have. However, it's not the most important. Your voice on the phone is a much greater power and that 20 minutes over a latte with a friend or net business partner beats out all the technology in the world.
Now go out and give someone an AWESOME day. And do it in person.